Welcome to my blog - The Agile SQL Club
You will find a list of all the BLOG POSTS here altough you might like to browse by tags if you would like to search the site then feel free to duck duck go me:
If you write code to SQL Server then you might be interested in this: at the end of 2017 I wrote a tSQLt tdd training course which has helped over 300 people learn both tSQLt and how to apply TDD practices to their SQL Server T-SQL development, you can join the course at https://courses.agilesql.club. The course is free if you are happy to wait 10 weeks to complete it, with 1 lesson being made available per week - if you are in more of a hurry or you would like to help support the project you can purchase the course which makes it instantly available to you.
If you came here looking for SQLCover then visit here. Whilst the SSDT Dev pack is an oldie it is still a goldie and you can find that here. The tSQLt Test Adapters are here
For the Azure IaaS IO calculator see go here
For the SQL Dev Tool choosing tool go here
About ME
Hi,
My name is Ed Elliott and I am a Sql Server developer from West Sussex working in London.
These are some of the things I am interested in: Azure/DevOps/Sql Server/TypeScript/JavaScript/Node/C#/TDD/C/C++/VB/GO/.Net development, reverse engineering + debugging – windbg + cdb, sos.dll .net debugging (did I mention debugging?). Basically I like making things work, I am very good at debugging any sort of software and I love it!
The focus of this site is my personal blog where I try to help bring some of the more modern practices from development to the world of Sql Server development. Things like SSDT, source control and continuous integration.
If you would like to get involved then please either contact me or join the "Modern T-SQL Development" group over on linkedin: https://www.linkedin.com/groups?home=&gid=8183714&trk=anet_ug_hm
From a personal point of view I live near East Grinstead in West Sussex and I have a great family (Sarah wife, Sam + Lucy, poppy the dog).
Contact Information
Feel free to contact me:
Twitter: https://twitter.com/EdDebug
Email: ed.elliott@outlook.com
LinkedIn: https://uk.linkedin.com/pub/ed-elliott/a/106/551
Why "The Agile Sql Club"
Well I have been working with Sql Server since around 2005 and in that time have been a DBA, a Sql developer then a .Net C# developer and now I have moved back to being a Sql developer and after a couple of years purely working in an Agile C# team I was shocked to start working with Sql Server again only to find that not many DBAs or developers even used source control or wrote unit tests or had continuous integration systems set up, let alone continuous deployment.
I decided sometime in 2014 that I would do everything I could to try to bring some of these practices to the Sql community so I have started this blog, I am writing articles for Sql Server central and Simple Talk, I have spoken at the excellent Sql Server saturday event in Exeter about using source control, SSDT and continuous integration and I am trying to help as many people who ask - either me directly or via stack overflow and the msdn ssdt forums.
The end goal for me is to be able to walk into a contract and know that the database will be in source control, I can check it out in one step and build it, I can see how everything works and start making changes pretty rapidly because of the unit, integration, performance and acceptance tests which are available - I know this is still quite a way off (if I said 5% of Sql developers used source control today that would probably be quite a high number!). In the meantime I am going to continue setting up professional Sql Server development pipelines and continue to learn by helping other people and by blogging myself.
I really enjoy writing and I am basically addicted to programming and debugging so Sql Server development really suits me and because I have dedicated so much time to this I can really add a lot of value to any Sql or .Net development project.
Finally...
This is me and my good friend captain jack: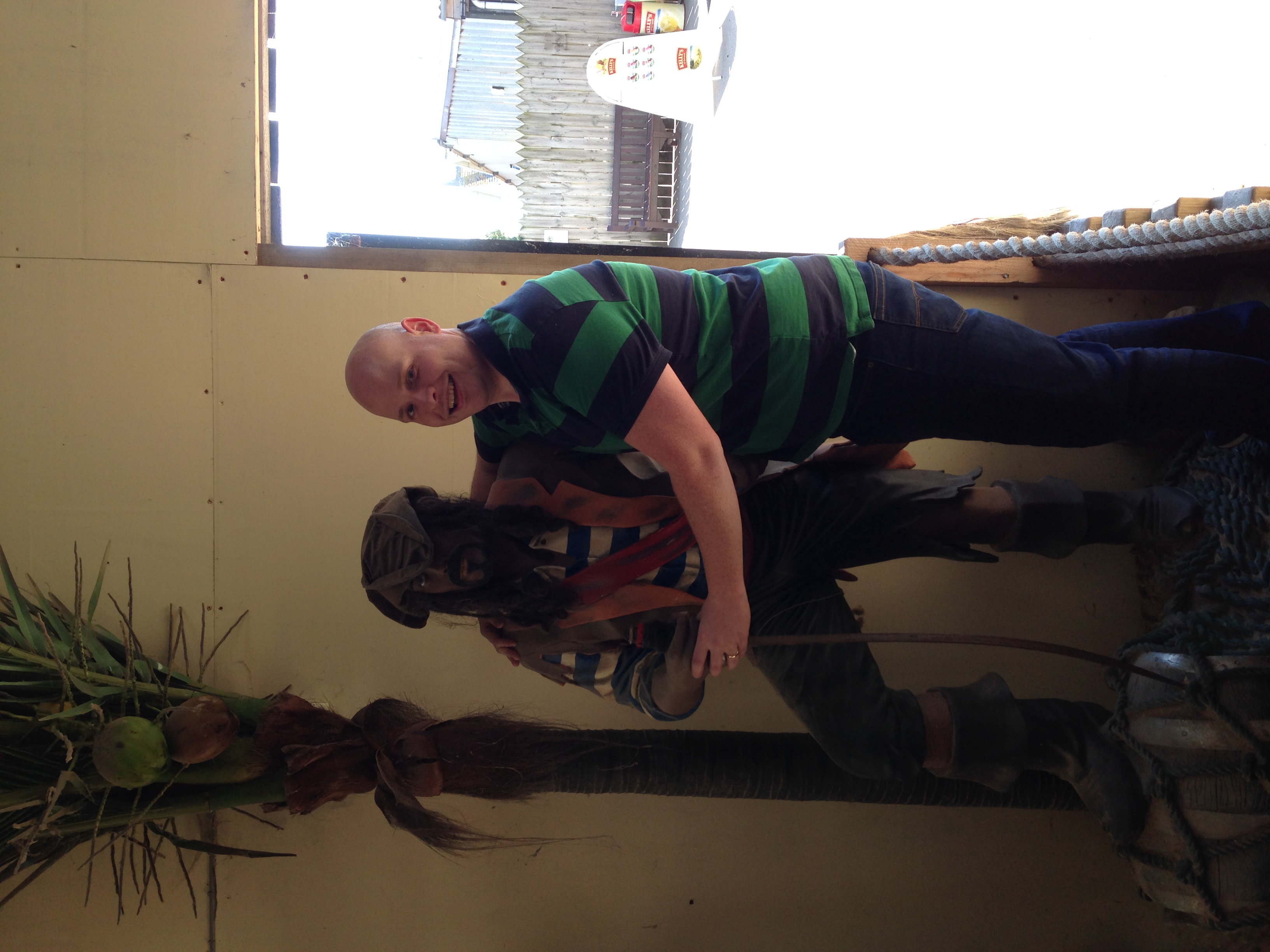 Recent Posts